Books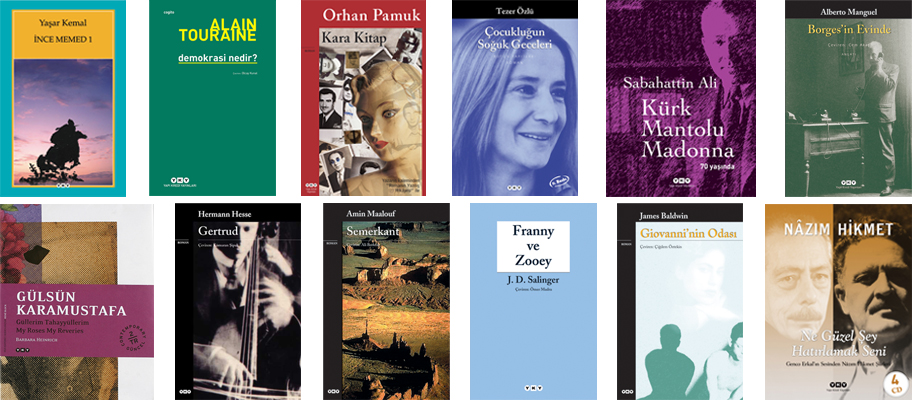 Yapı Kredi Publications publishes a wide range of subjects of fiction, non-fiction and children's books:
LITERATURE: Important classical and contemporary names of world and Turkish literature are brought together under the umbrella of YKY's Literature Series. Novels, stories, diaries, memoirs, essays and criticisms of prominent authors are published after careful review by our experienced editors. YKY publishes the backlists and classic collected works of distinguished literary names of Turkish literature as well as masterly translations of renowned world literature.
For events click here.
POETRY: YKY's poetry series aims to present the verses of distinguished poets of Turkey and the world, anthologies, literary works about poetry, masters and young poets, collected poetry, and profiles.
For events click here.
KÂZIM TAŞKENT CLASSIC WORKS: Presenting a wide range of books from Shakespeare's Richard II to Joyce's Ulysses, this series aims to present classic works of literature for the first time in Turkish, translated from their original language.
For events click here.
COGİTO: Cogito brings readers "thoughts" from past and present with groundworks of philosophers, scientists and researchers about philosophy, sociology, human sciences and philosophy of science, modern and classic.
For events click here.
ART: YKY's Art Series is comprised of books about plastic arts, performance arts, architecture, music and traditional arts with rich visuals and content.
For events click here.
CITY MONOGRAPHIES: This series about Turkish cities aims to present the beauty of our land. Stories of Turkish cities full of history, such as Edirne, Diyarbakır, Adana, Urfa, Konya, Balıkesir, Mersin, Mardin, Kars, Gaziantep, are told in City Monographies.
For events click here.
DOĞAN KARDEŞ: This series is named after the oldest children's magazine in Turkey and has filled the bookshelves of Turkish children since 1992. Children's literature and reference books for schoolchildren and young adults are published in appealing editions.
For events click here.
DÉCOUVERTES: This series includes books published by renowned French publishing house Gallimard's "Découvertes" series, published in more than 30 languages. This series is an important source of practical information for readers of all ages and covers different areas of interests such as ancient Greece, Central Asia, Gelileo, Picasso, colors, numbers, music, sports…
For events click here.
HISTORY: Selected history books covering world and Turkish history such as the Crusades, Ottoman Empire, Constitutional Monarchy II, World War II, İsmet İnönü, Nihat Erim, Kâzım Karabekir, Celal Bayar, Amin Maalouf, Halil İnalcık, West and East… are presented to our readers in YKY's History Series.
For events click here.
DELTA: Delta Series aims to present complete works of important literary figures in one volume: Complete Novels of Sabahattin Ali, Complete Poetry of Nâzım Hikmet, Collected Short Stories of Füruzan, History of English Literature by Mîna Urgan, Stories, Poems and Plays of Sabahattin Ali, Complete Poetry of İlhan Berk…
For events click here.
SPECIAL SERIES: YKY's Special Series consists of classic reference books such as Turkey Civilizations Guide, History of the Private Life, Travelogue of Evliyâ Çelebi and thematic reference books about nature's treasures such as grape, olive, yogurt, honey, birds, horses…
For events click here.
EXHIBITION CATALOGUES: Catalogues of the exhibitions held in Yapı Kredi Vedat Nedim Tör Museum, Yapı Kredi Kâzım Taşkent Art Gallery and Yapı Kredi Sermet Çifter Hall are presented in this series. These exhibitions and their catalogues are indispensable for lovers of art, history and literature.
For events click here.
GRAPHIC NOVELS: YKY brings the "the ninth art" to its readers juxtaposing various genres of comics, appealing to children, young adults, as well as adults.
For events click here.